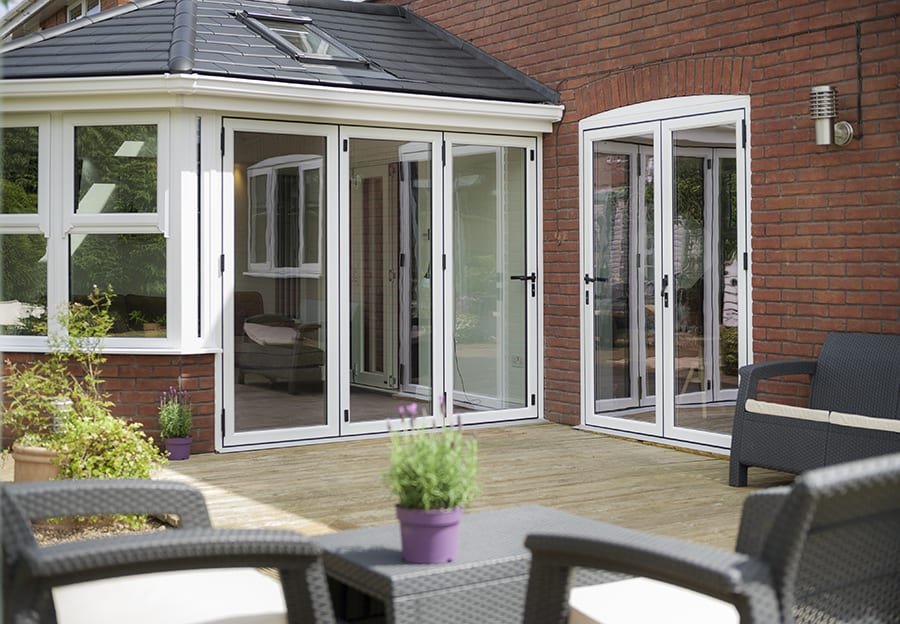 There are so many ideas out there for design for bi-folding doors. They're a great way to open up your home to the garden and enjoy outdoor living all year round. If you're looking for bi-folding doors in Kent, we'd be more than happy to talk to you about ideas – contact our friendly team here.
Here's our six top tips for design for bi-folding doors, with advice on the all the things to think about when choosing bi-fold door designs.
6. Should you choose PVCu or aluminium bi-fold doors?
It can be a minefield when you're researching the benefits of different materials but let's keep it simple.
PVCu frames offer great energy efficiency and are really low-maintenance – they just need a quick wipe-down with a cloth and warm soapy water. They will also match in with your PVCu windows and are available in lots of different colours.
Aluminium is really popular with homeowners right now. It's a very strong material and technical advances means that their energy ratings can match that of PVCu. Aluminium frames offer slimmer sightlines and have a more modern look.
5. Bi-fold Opening Styles
The beauty of a bifold is that there are lots of configuration options available. That means you can choose for your doors to open in just one direction from the left or the right or in two directions, with the doors opening from the middle.
You can choose to have an easy access sash, so you can nip in and out of the garden without opening the whole door. And you can choose for the doors to stack inside or outside when they are open, depending on what space you have available.
4. Colour Options for Bi-folds
There are lots of colour options available for your bi-fold doors. For PVCu frames we have a selection of colour foils to choose from. For our WarmCore warm aluminium bi-fold doors, there's a range of powder-coated finishes to choose from, with the option to have a different colour inside to outside.
3. Bi-fold Door Thresholds
We offer a low threshold option for our bi-fold doors which means that you have a seamless join between inside and out when your doors are open. It also offers easier access for pushchairs and wheelchairs, plus there's less of a trip hazard for small children and people with limited mobility.
2. Handles and Hardware for Bi-fold Doors
There is a choice of hardware options available for bi-fold doors. These come in a range of colour finishes too, so your new bi-fold door handles can match your window handles if you would like them to.
1. Wall of Glass
By installing a bi-folding door into your home, you are essentially installing a removable glass wall. It's a great way to let in lots of natural light to your home and it works really well in kitchens and dining rooms, so in the Summer your home can open out into the garden. If you'd like to know more about glass options for your bi-folds, talk to our team.
If you still have questions about our bi-folding door designs, or you'd like to talk to us about your plans for your home, please give us a call on 01795 661616.